Glow in Dark Necklace The Little Mermaid's Teardrop Pendant Locket Jewelry
Glow Colors Available: Green, Dark Blue, Light Blue & Purple!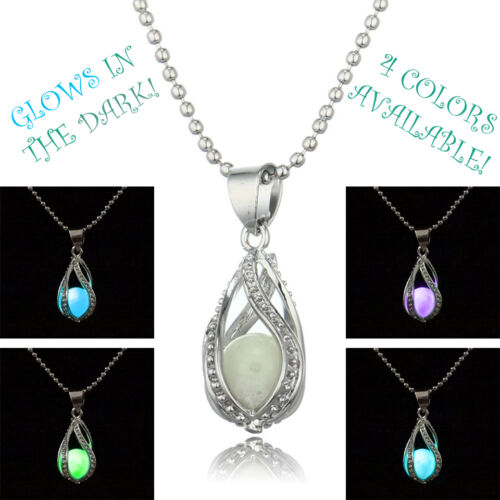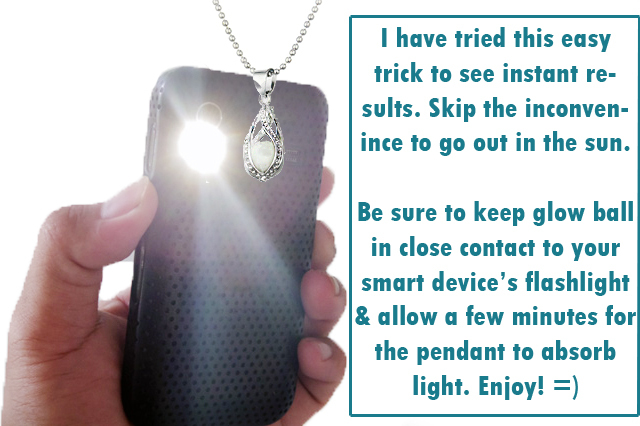 Descriptions
Cute necklace pendant that glows in the dark. There may be little light or no glow at the beginning when you
first receive the pendant due to no light absorption during the shipping process & transitory period. It is highly
recommended that you charge the pendant for at least an hour or few minutes after receiving it. The necklace
is charged by light absorption, You can charge it by exposing it to direct light sources. You may also be able to
see
glow
by keeping it near a
powerful lamp or high lumen light bulb at home to see results
instantly
.
Sunlight
or
any
UV
light
has the best results for longer glowing period. When the pendant reduces glowing, you me
simply recharge it.
Fine Prints & Specifications:
Product Condition: 100% New
Category & Type: Necklaces & Pendants
Materials: Environmental Zinc Alloy, Acrylic
Approx. Chain Measurement: 49cm
Pendant Size: 2cm (L) x 1cm (W)
Approximate Weight: 6 (grams)
Pendant & Chain Color: Silver Tone
Glow Colors Available: Green, Dark Blue or Light Blue
Package Includes: 1 Glow in The Dark Pendant Necklace
Free Shipping All Over U.S.A.
Handling Time: 1 Business Day
Shipping Transit Time: 1-3 Business Days
Shipping Carrier: USPS First Class Package Services

Safe & Secured – PayPal Verified
PLEASE NOTE Our Terms & FAQ: The colors and images above varies from screen to screen resolutions. Images above are only for display to show texture, appearance or an example of what will be delivered. What this means is that, you may or may not receive the same exact identical product like the one that is used for display purposes in the images above.

We're located in The U.S. & we offer

Free Shipping all over The U.S. with tracking by 'USPS First Class Mail Service'. Handling time usually: 1-2 business days. Please excuse any orders that are delayed if they are placed on non-business days such as Saturdays, Sundays or any other official or national holidays during which our office hours & USPS Postal Service office hours are closed. Shipping duration are approx: 1-3 business days. In cases where products goes out of stock without any prior notices, please feel secured & acknowledge that we will humbly reimburse your purchases to the method of payment/PayPal as soon as we notice the product is no longer available in stock. By making this transaction, you are happily and kindly agreeing with our terms of services for you.

Please contact us if you have any

further

questions or concerns, we'll do our best to help as fast as we can. Thank you!
'WE SHIP WORLDWIDE'
Worldwide International Shipping Are Available – Cost Varies By Locations.
Please Contact Us For Quotes.
About Us
'
The Secret Treasure Cave, Inc.
'
is an American owned business.
We strive for excellence & to offer our best service to our clients from reasonable pricing to honesty and support.
ALL our clients are treated equally so if your purchasing 1 item or 100 our guarantee of service and delivery is the same for all.
We welcome suggestions, feedback and correspondence from any client as we want to grow our business
based on your shopping experience and expectations with The Secret Treasure Cave. Thank You!
– Director of The Secret Treasure Cave, Inc.
If for any reasons you are not happy with your purchase, you may return at
anytime within this time frame for a 100% money back guaranteed, Thanks!
The Secret Treasure Cave, INC.
THE SECRET TREASURE CAVE

®

Incorporation –

Brooklyn, NY, U.S.A. –

A Registered Trademark

™ –

© Copyright, All Rights Reserved.